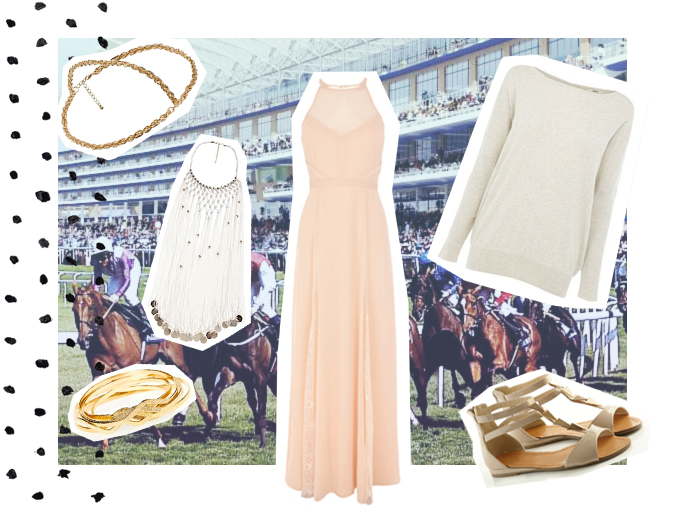 1. ASOS, £8.00
★
2. New Look, £7.99
★
3. French Connection, £11.99
4. Warehouse, £90.00
★
5. Oasis, £35.00
★
6. Fashion Union, £18.00
Click on the brand names to view the products.
The races are one of those places where you can dress for the occasion, but often you can feel a little over dressed. I always try and dress down dressed up looks with just simple accessories and layering. After all, you don't want to end up featured on a what not to wear list, which is so easy to do some where like Royal Ascot.

Above is what I would wear for the races, something to show I've made an effort, but not too much that I feel over dressed. I have a little habit of teaming any evening dress I own with a slouchy jumper, to dress it down a little bit. I also always wear flats, no matter what. I've tried wearing heels, but over this last year or so I've fallen out of love with them, and flats always help bring a flashy outfit down to earth. Your feet with thank you later after you've been standing around all day too! Fancy hats and fascinators are also a big no of mine as I have the smallest head they just end up looking silly on me, so I would settle for a head band instead.

Do you go to the races? If so, what do you wear?
Written in association with Ladbrokes. All opinions are my own.
Labels: Shopping, Sponsored Posts