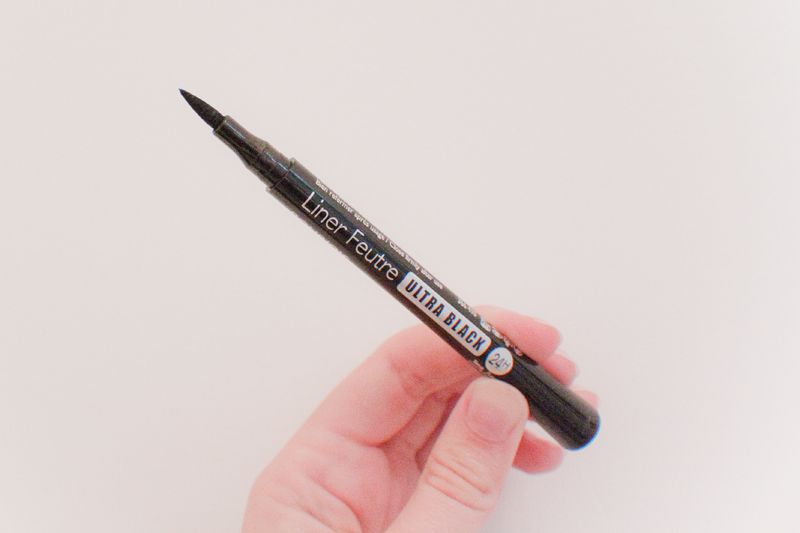 Volume Effect Mascara in High Density Black by Bourjois
the product Felt tip eyeliner for ultra easy application.
the look Smoky eyes, cats eyes and 60s flicks.
the cost £6.99
works well on A quirky 60's look.
Appearance
I love the look of this product, its slim, doesn't take up much space in my make up back and has clean, classic packaging what fits in well with the rest of my things. The felt tip liner looks exactly like a nice felt tip pen, and I'd imagine it works well as a pen too should you need one!

The appearance the product gives once applied however, is not so great. As you can see in the last image that is what it looks like when I've reapplied it in the afternoon. Not very strong at all, dull in colour and very washed out.
Application
The pen feels nice in the hand so when applying you feel like you have total control, which is really nice when you have clumsy hands like me. The felt tip pen is a little watered down in my opinion so can look a bit grey with the first application. When I apply it I used it over foundation and a BB cream, it takes a few goes over with the pen to get my usual subtle 60s flicks but the control is amazing, something you really don't get with the little liquid pot eyeliners.

I do find that when applied over a dewy foundation it can be a pain to apply as it won't stick to the eyelid and will just slide over it without leaving behind any eyeliner behind. Forget applying it over moisturiser or sunscreen, it won't work at all which is a little disappointing. It can be tricky to apply over eyeshadow too, this eyeliner just doesn't like shiny surfaces what so ever.
Lastability
I'm really disappointed that this product did not last very long at all on my eyelids and corners of my eyes. I've been using this product for a little while now so have given it a real go. When I've applied in the morning it will be smudged by lunchtime and completely gone by the afternoon.
Cost
This product is isn't exactly costly but is more than I've spent before on eyeliner. In my opinion it would be worth the cost if it wasn't so watery and offered a stronger line, as well as lasted throughout the day without the need for touch ups.
the verdict
Overall, I would not buy this product again and I'm really disappointed it doesn't last or provide a heavier, darker line. When I first saw this product in Boots I used the tester on my hand and it gave a really lovely strong, dark line. I got really excited about it because I had been after a nice, strong, eyeliner that was easy to apply so brought it straight away. When I first used it on my eyes, the first application worked well but every use after that has left me feeling disappointed with it. I love the concept, eyeliner as a felt tip pen? What better way to apply! Shame it doesn't work. :(
Shop Felt Tip Eyeliners
Labels: Hair & Beauty Reviews