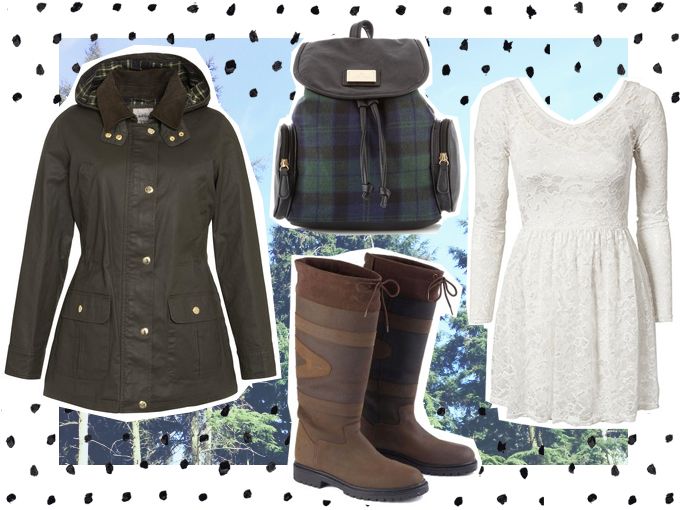 1. F&F, £35.00
★
2. Red Herring, £29.99
3. Cross County Style, £105.00
★
4. Sparkz, £44.95
Click on the brand names to view the products.
Now it has started to become a little cooler and it is now officially autumn, I keep on getting a little over enthusiastic about layer up and keep warm and cosy. I am so pleased there is a lot of tartan in the shops for fall as I absolutely love it! I was a 90s kid and it really reminds me of Christmas parties and wearing tartan dresses with frilly white socks and patent pumps.

You might have noticed I have featured the F&F wax jacket that has appeared previously in my cheaper alternatives to a Barbour wax jacket post, which you can view here. I just can't help it, I can't believe how reasonably priced this jacket is! As soon as it is pay day I'll be all over the internet ordering this.

These Toggi boots by Cross County Style look like they would be perfect for a crisp autumn walk. They are waterproof and breathable, which is a great combination. When you have thick socks and long boots on when you are walking all day your feet can get pretty sweaty quickly and start to swell up, which can be very uncomfortable. Breathability can make a huge difference to how much you'll enjoy your walk, and makes your feet much more comfortable. Cross County Style have a range of really lovely horsey and country things from some fantastic brands, including my favourites Caldene, Barbour & Harry Hall. If you're into your horses as much as I am they're definitely worth a visit!



What do you normally wear for an autumn country walk?
Written in association with Cross Country Style. All opinions are my own.
Labels: Shopping, Sponsored Posts